London (CNN)
-- There is much speculation surrounding the circumstances of the death of 29-year-old Mark Duggan in north London on Thursday. His shooting at the hands of police while he was riding in a cab sparked a weekend of rioting and looting across the capital that continued into Monday.
Officers from Operation Trident -- the Metropolitan Police unit that deals with gun crime in London's black communities -- stopped the cab during an attempted arrest and soon afterwards shots were fired, the Independent Police Complaints Commission (IPCC) said. Duggan, a father of four, was fatally wounded.
Since Saturday evening 215 people have been arrested and 27 people charged according to the British Home Secretary Theresa May, who returned home early from holiday Monday. More than 35 officers have been injured.
Are you there? Send your videos and photos to CNN iReport.
How did Duggan die?

There are varying accounts of what happened -- initial reports from the IPCC said that during an apparent exchange of gun fire police officers fired two shots and Duggan died at the scene.
Community must rise up to stop rioting
British MP: Community must rise up
Riots sweep London
Youth gangs hijack London protests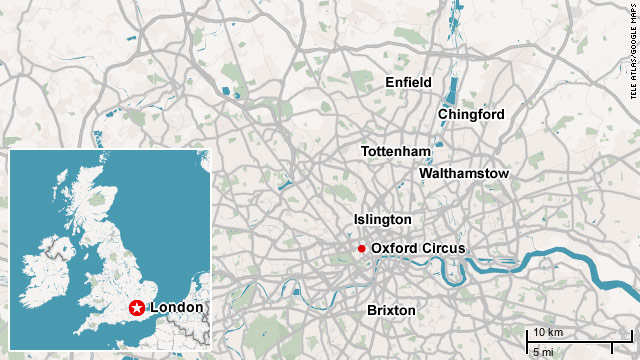 London riot locations
This assumption came from the fact that a bullet had lodged in a police radio worn by an officer at the scene, raising speculation he might have been fired at from the vehicle.
A non-police issue handgun was also recovered at the scene where Duggan was shot dead, the IPCC said.
However,
a report in the Guardian
Monday said that initial ballistics tests on the bullet found lodged in the police radio suggested it was police issue and therefore had not been fired by Duggan.
The IPCC said it would not comment on the Guardian report until all ballistics and forensic tests were complete.
Some reports suggested that Duggan was held down by police and shot in the head, but the IPCC has denied this.
"Speculation that Mark Duggan was 'assassinated' in an execution style involving a number of shots to the head are categorically untrue," the IPCC said in a statement.
What happened next?

On Saturday evening at around 5.30pm local time about 120 people, including members of Duggan's family and community workers, marched to Tottenham police station in north London, only a short distance from the scene of the shooting.
The march was peaceful according to reports, with protesters calling for "justice" and an investigation. Local roads were closed and traffic diverted.
About two hours later violence erupted, with gangs attacking police cars, shops, banks and other buildings. There was widespread looting in and around Tottenham.
London Riots: A Blast From The Past Or A Glimpse Of The Future?
What sparked the rioting is unclear but police said: "We believe that certain elements, who were not involved with the vigil, took the opportunity to commit disorder and physically attack police officers, verbally abuse fire brigade personnel and destroy vehicles and buildings."
Why did the riots spread to other parts of London?

On Sunday evening and in the early hours of Monday, rioting and looting was reported from several other parts of London, including Brixton in south London, Enfield in north London and Oxford Street in central London, the capital's main shopping district.
The rioting also spread to parts of south London on Monday evening, including Lewisham and Peckham, where vehicles were set ablaze and shops looted.
Police said the continued rioting and looting in other parts of the capital were "copycat" events conducted by opportunists and criminals.
Was social media a factor?

London's Deputy Assistant Commissioner Steve Kavanagh told CNN that smart phones and social networks like Twitter had been used by criminals to liaise. "It's a group of individuals using modern technology to cause chaos," he said.
Other reports
say BlackBerry's messaging service was a popular means of communication to spread news about the violence.
Are there any parallels with the 1985 riots?

Only superficially, but some might argue that today, as in 1985, there is a racial element to the troubles.
In 1985 Floyd Jarrett, who was of Afro-Caribbean origin, was stopped by police near the Broadwater Farm estate in Tottenham on suspicion of driving with a forged tax disc.
A few hours later officers raided the nearby home of his mother, who collapsed and died during the raid. Rioting erupted shortly afterwards. Like the recent troubles, it was a protest outside Tottenham Police Station which sparked the 1985 conflict.
What next?
The IPCC is conducting an investigation. Its commissioner said in a written statement: "[We are] investigating not only the actions of the officer firing the shots but also the planning, decision making and implementation of the police operation. Our lines of enquiry include the bullets fired and any firearms used and recovered."